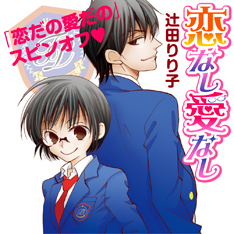 Koi nashi Ai nashi (恋なし愛なし) Short comedy spin-off for Koi Dano Ai Dano, follow the quirky adventures of Kanoko and her high school classmates and teachers!
Support Tsujita Ririko by reading Koi nashi Ai nashi on the official website.
Chapter 01
Edit
The people surrouding Kanoko and Tsubaki are all very interesting!
Chapter 02
Edit
And now, love ♥ for the club leader. Okyou-Senpai's story • The 2nd Year Newspaper Club Member.
Chapter 03
Edit
This time, the story of Kanoko's friends from Middle School, Yamada and Kakitsubata-san ♥
Chapter 04
Edit
What is the true face of Hoshino Kiriko, "The Dual Blade Kiriko"?!
Chapter 05
Edit
The third years of Takara High...! Touching upon their pasts!
Chapter 06
Edit
I have a large present for that person...!
Chapter 07
Edit
An enthusiastic supporter of Tsubaki and Kanoko's love?! Yumemi-san's story♥
Chapter 08
Edit
Okyou-senpai's best friend, Shingyouji-san. What's behind her smile?!
Chapter 09
Edit
Angel's discovery?!!
Chapter 10
Edit
Vice-President Mizukami and President Yabuki's first meeting...?!
Community content is available under
CC-BY-SA
unless otherwise noted.